VRT, AMC catch Atlantyca's Bees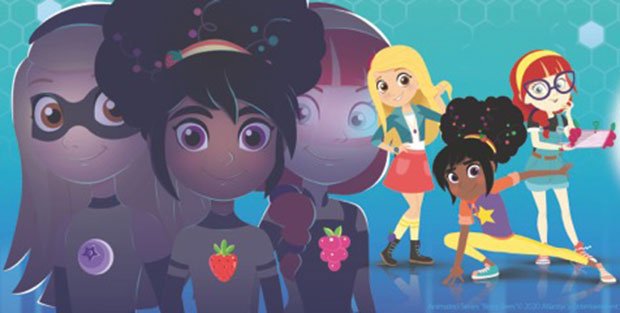 Berry Bees debuted last year
VRT in Belgium, AMC Networks International and Turkey's Minika have picked up a kids' spy series from Italian production and distribution company Atlantyca Entertainment.
Berry Bees (52×12′) premiered on Rai Gulp in Italy and Nine Network in Australia in 2019 and launched on Australian streaming service Stan earlier this year.
VRT has now picked up the series for its Ketnet channel, while AMC Networks International Central & Northern Europe has acquired the show for its Minimax channel in Hungary, Romania, Moldova, the Czech Republic, Slovakia, Serbia, Kosovo, Montenegro, Macedonia, Bosnia-Herzegovina, Croatia and Slovenia.
Minika, meanwhile, has taken the show for its kids' channel Minika Go.
Aimed at five- to nine-year-olds, Berry Bees follows three 10-year-old girls who are selected by the BIA (Bee Intelligence Agency) to take part in special spy missions in which only child agents can be involved.
The show is produced by Atlantyca, Australia's SLR Productions, Irish studio Telegael and India's Cosmos-Maya.
Atlantyca maintains the worldwide distribution rights to the series, with Cosmos-Maya overseeing Asia, SLR Productions handling Australia and New Zealand and Telegael managing rights for Ireland and the UK.
Recent News
MIPCOM & MIPTV organisers Reed Midem replace CEO
MIPCOM and MIPTV organisers Reed Midem has appointed a ...
US set for 'historic' cord-cutting loss in 2020
The US pay TV industry will suffer 'historic&...
News round-up: Disney+ Hotstar extends 'Doctor Foster' remake; NPACT launches Covid-19 ...
Disney+ Hotstar returns to 'Doctor Foster' adaptation ...
DLT Entertainment buys into Mark Watson and Lianne Coop's Impatient ...
UK-and-US-based production and distribution company DLT Entertainment has invested ...
Blue Ant's Look Mom! hires Warner Bros., Disney alum
Look Mom! Productions, the Blue Ant Studios-owned animation outfit ...