USATV thriller Nova Vita heads to market
Nova Vita's cast includes Bosch actor Titus Welliver
A recently completed crime drama series filmed in LA and featuring stars from Breaking Bad and The Walking Dead is being shopped by USATV Productions, a former News Corp executive and the founder of E!.
Nova Vita comes from Bagrat and Vaagn Sargsyan's USATV Productions, News Corp alum Marty Pompadur and E! founder Larry Namer.
Created by the Sargsyan brothers, it tells the story of two best friends who work in the cryptocurrency business and fake their own deaths when they find themselves in legal trouble.
The 10-episode series was directed by Santiago Salviche and its cast includes Thomas Beaudoin (The Blacklist), Titus Welliver (Bosch), Stephen Baldwin, Dean Norris (Breaking Bad) and Raymond Cruz (The Walking Dead).
"We decided to announce the completed project now as we believe Nova Vita will be a much welcomed escape for TV audiences around the world facing these difficult times," said Bagrat Sargsyan.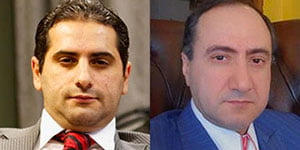 Vaagn and Bagrat Sargsyan
"The high-concept thriller is a very popular genre with viewers, both young and old. We can see what has resonated on Netflix, Amazon and HBO and Nova Vita will be a plug-and-play series for the right outlet."
Namer added: "With Hollywood production at a standstill, broadcasters and streaming platforms are hungry for quality content like Nova Vita. The series has it all – luxury lifestyle, international crime, conspiracy and intrigue."
The show is written by Scott Windhauser (Hurricane Heist, Death in Texas, Vengeance), with directors of photography Pablo Diez (The Outsider, The Final Wish) and Gevorg Sarkisian, music by Emmy-winning composer Frederik Wiedmann and line producers Justin L Anderson and Alina Sargsyan.
LA-based USATV Productions was formed by the Sargsyans after they left Armenia in 2008, having set up a large media conglomerate there, spanning four national television networks, a publishing house, cable distribution companies and film studios.
Since USATV's inception, the Sargsyans have produced numerous television formats in Armenia and Eastern Europe, including The Voice and Deal or No Deal, Minute to Win It and Fort Boyard.
Recent News
TBI Weekly: Why Disney's 'Modern Family' deal matters
The narrative around the US studios' direct-to-consumer strategies ...
Cineflix Media's Julien Leroux launches UK-based Paper Entertainment
Former Cineflix Media exec Julien Leroux has formally ...
Italy's Casta Diva hires former Banijay exec Massimo Righini for ...
Italian media firm Casta Diva Group has launched a ...
News round-up: BBC adds 'Bates Motel' & Steve McQueen docs; Barcroft ...
BBC adds Bates Motel & Steve McQueen docs ...
Kids roundup: Netflix takes 'Oggy' reboot;  Wildbrain to shop 'Alva's ...
Netflix takes 'Oggy' reboot Netflix has acquired ...