Sky crowns ZDFE's Queens of Mystery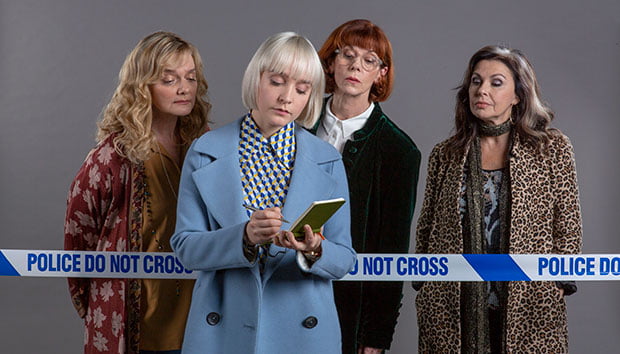 Queens of Mystery follows a detective and her three crime-writing aunts
Sky in Germany is among a number of broadcasters and VoD platforms to have picked up drama Queens of Mystery from locally based distributor ZDF Enterprises (ZDFE).
Queens of Mystery (3×90'/6×45′) was commissioned by Acorn Media Enterprises from London-based Sly Fox Productions in association with fellow UK outfit Ferncroft Media for US streaming service Acorn TV.
Created by Julian Unthank (Doc Martin, New Tricks), the series follows a single female detective and her three aunts who are well-known crime writers. The trio help their niece solve whodunit-style murders while setting her up on blind dates.
In addition to Sky in Germany, Queens of Mystery has also been acquired by All Media Baltics in Lithuania, LTV in Latvia, Bulgaria's bTV, Megogo and Okko in Russia and CIS, Germany's ProSiebenSat.1 and VoD platforms including Amazon, iTunes and Google.
ZDFE handles worldwide distribution of Queens of Mystery outside English-speaking territories, which are handled by Acorn Media International.
It was greenlit in 2018 as one of the first original productions for Acorn TV, which specialises in taking British and foreign-language drama into the US.
Recent News
TBI Weekly: Why Disney's 'Modern Family' deal matters
The narrative around the US studios' direct-to-consumer strategies ...
Cineflix Media's Julien Leroux launches UK-based Paper Entertainment
Former Cineflix Media exec Julien Leroux has formally ...
Italy's Casta Diva hires former Banijay exec Massimo Righini for ...
Italian media firm Casta Diva Group has launched a ...
News round-up: BBC adds 'Bates Motel' & Steve McQueen docs; Barcroft ...
BBC adds Bates Motel & Steve McQueen docs ...
Kids roundup: Netflix takes 'Oggy' reboot;  Wildbrain to shop 'Alva's ...
Netflix takes 'Oggy' reboot Netflix has acquired ...