SeriesFest goes online-only
[addthis tool="addthis_inline_share_toolbox_p9bf"]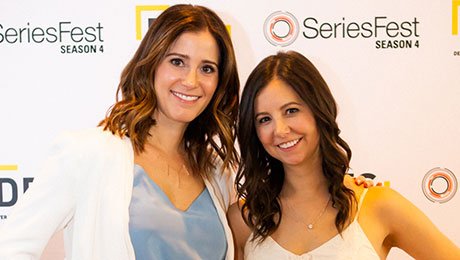 Kaily Smith Westbrook and Randi Kleiner
Denver-based festival and marketplace SeriesFest has revealed details of its virtual 2020 edition, which will see all of its panels, competitions and premieres made available online.
The annual six-day festival will take place as scheduled from June 18-24 but, in light of the Covid-19 pandemic, will transition to a schedule of virtual events.
The festival's signature competitions, Independent Pilot, Digital Short Series, Late Night Competition, Alumni Spotlight and Collegiate Creator Spotlight, will this year be online and on-demand. The pilots will be juried by established industry executives and selections will have an online debut.
Also, starting this month, SeriesFest will host industry creatives through virtual writers rooms, creator hangouts, network watch parties and online 'Pitch-A-Thons.' Talent to have confirmed they are taking part includes Ryan Eggold, Betsy Sodaro, James Lafferty and Stephen Colletti.
"We are facing unprecedented times as the Covid-19 pandemic has changed the world as we know it. Those impacted by the virus have been on our minds and in our hearts as we determined how to navigate this challenging time," said Randi Kleiner and Kaily Smith Westbrook, co-founders of SeriesFest, in a joint statement.
"As an organisation, we are collectively embracing the mandate to stay at home to ensure the health and well-being of our families, employees, industry and audiences. While many things have changed in these last few weeks, the one thing that remains the same is the need for our passionate community to stay connected through empathy and storytelling.
"By pivoting to a virtual experience, we are confident we will remain a trusted destination for meaningful conversations and provide a much-needed forum for creatives to share, engage and celebrate their experiences and innovative stories.
"Our staff, board of directors and partners are fully dedicated to providing a platform for creating impactful conversations and developing valuable connections as we adapt to an increasingly digital ecosystem," added Kleiner and Smith Westbrook.
The non-profit organisation behind the event, which is in its sixth year, is supported by partners that include Comcast Xfinity, Denver Film, Liberty Global, Fries Foundation, Coca-Cola and Visit Denver. SeriesFest will return to Denver in June 2021 for its seventh edition.