Int'l pubcasters head to Moominvalley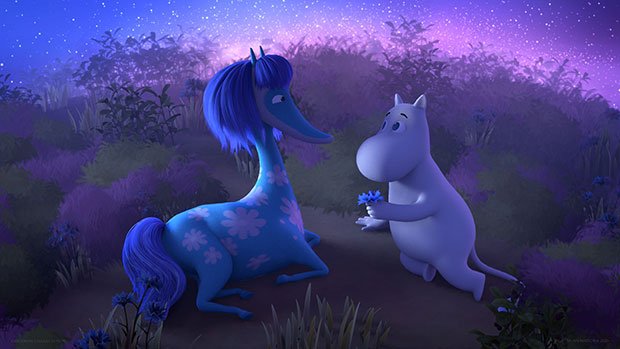 The second part of Moominvalley S2 will debut this weekend
A host of public broadcasters have picked up Gutsy Animation's reboot of classic kids' property The Moomins from PGS Entertainment in France.
France Télévisions, ZDF in Germany, Rai in Italy, NPO Zapp in the Netherlands, RTS in Switzerland, Czech TV, ERR in Estonia, MTVA in Hungary, RTP in Portugal and Once Nino in Mexico will all air Moominvalley (26×22′).
Other partners on board include Canal+ and Puls TV in Poland, Medialaan in Belgium, Kidzone in the Baltics, Talit & Noga in Israel, Jeem TV in the UAE, Qualson in South Korea and Youku in China.
Commissioned by YLE in Finland, Sky in the UK and NHK in Japan, Moominvalley is directed by Steve Box (Wallace & Gromit: The Curse of the Were-Rabbit) and is based on Tove Jansson's well-known novels and comic strips.
It features an all-star voice cast, including Kate Winslet, Rosamund Pike, Taron Egerton and Matt Berry.
The series is the creation of creative director and executive producer Marika Makaroff, Box, producer John Woolley and Louise Holmes, plus scriptwriters Mark Huckerby and Nick Ostler (Peter Rabbit).
The second instalment of the show's second season will debut on Sky1 and Sky Kids over the Easter weekend, starting April 10.
Recent News
TBI Weekly: Why Disney's 'Modern Family' deal matters
The narrative around the US studios' direct-to-consumer strategies ...
Cineflix Media's Julien Leroux launches UK-based Paper Entertainment
Former Cineflix Media exec Julien Leroux has formally ...
Italy's Casta Diva hires former Banijay exec Massimo Righini for ...
Italian media firm Casta Diva Group has launched a ...
News round-up: BBC adds 'Bates Motel' & Steve McQueen docs; Barcroft ...
BBC adds Bates Motel & Steve McQueen docs ...
Kids roundup: Netflix takes 'Oggy' reboot;  Wildbrain to shop 'Alva's ...
Netflix takes 'Oggy' reboot Netflix has acquired ...