Int'l nets bag D360 kids' titles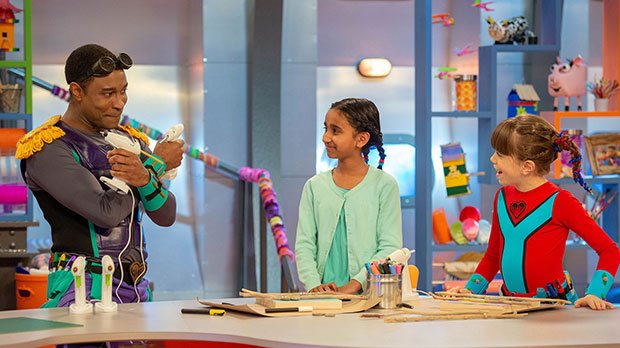 Super Mighty Makers
Broadcasters and streamers including France's AB Thematiques and the UK's Azoomee have picked up children's content from Canada-based sales house Distribution360 (D360).
Kids' online entertainment and learning platform Azoomee has acquired Super Mighty Makers (13×30'), Super Simple Draw (26×7') and ScienceXplosion (45×3.5'), alongside renewing MathXplosion (50×3').
ScienceXplosion has also been picked by specialist kids' channel Da Vinci for broadcast across Eastern Europe, the Middle East, Asia and Africa, while PCCW in Hong Kong has picked up fellow science series Blynk & Aazoo (24×7').
Christianity-focused US streamer Minno (fka JellyTelly) has bagged Three Arrows' Treasure Champs (30×15'), while UK app Curious World has acquired hybrid live-action/animation series Nico Can Dance (65×2').
In France, AB Thematiques has bagged MarbleMedia's kids' quizshow Holy Baloney (10×3').
Finally, Game TV and the CBC's Gem have picked up Splatalot (52×30') in Canada, while more than 150 hours of long-running family drama Heartland have been picked up by both Corus and Radio Canada for French-speaking Canada.
In related news, D360 has acquired international distribution rights to AnimalFanPedia (26×11'), the new series from Cisneros-owned Mobius.LAB Kids. The international distribution rights cover North America, Europe, Australia and New Zealand.
Recent News
TBI Weekly: Why Disney's 'Modern Family' deal matters
The narrative around the US studios' direct-to-consumer strategies ...
Cineflix Media's Julien Leroux launches UK-based Paper Entertainment
Former Cineflix Media exec Julien Leroux has formally ...
Italy's Casta Diva hires former Banijay exec Massimo Righini for ...
Italian media firm Casta Diva Group has launched a ...
News round-up: BBC adds 'Bates Motel' & Steve McQueen docs; Barcroft ...
BBC adds Bates Motel & Steve McQueen docs ...
Kids roundup: Netflix takes 'Oggy' reboot;  Wildbrain to shop 'Alva's ...
Netflix takes 'Oggy' reboot Netflix has acquired ...