History UK marks VE Day with docuseries
[addthis tool="addthis_inline_share_toolbox_p9bf"]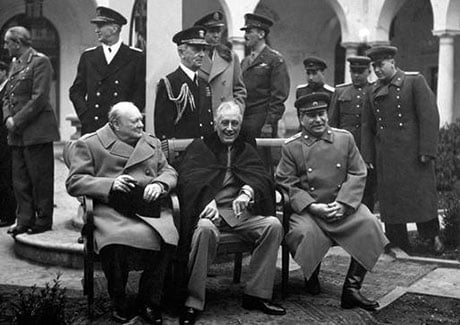 Race to Victory: Wartime leaders Winston Churchill, Franklin D Roosevelt and Joseph Stalin
A+E Networks UK's History channel has ordered documentary series Race To Victory, which focuses on the critical moments and locations of the Second World War.
The 6×60' series reveals how and why the alliance between the UK, US and Soviet Union was formed and details how they achieved victory, concluding with Victory in Europe (VE) Day on May 8, 1945.
Each episode explores a decisive moment in the war and then looks at who was responsible, who rushed to take the credit and who managed to escape the blame.
The series features insights from the former head of the British Army, General Sir Michael Jackson, alongside interviews with historians, military personnel and political figures.
The series is produced by London-based CIC Media, with Charlotte Fisher, Cristina Irazabal, Marlon Quintero and Owen Morgan serving as producers.
Dan Korn, VP of programming at A+E Networks UK, said: "On the 75th anniversary of one of the greatest days in British history, Race To Victory, is an opportunity to reflect not only on the enormous sacrifices made by men and women around the world to liberate us from the tyranny of Nazi Germany, but also to explore the secret manoeuvring, deal-making and compromise which went on at the highest levels to secure victory but which then precipitated the onset of the Cold War."
The series is set to premiere on History in the UK on the anniversary of VE Day, Friday May 8.