E! calls up Celebrity Call Center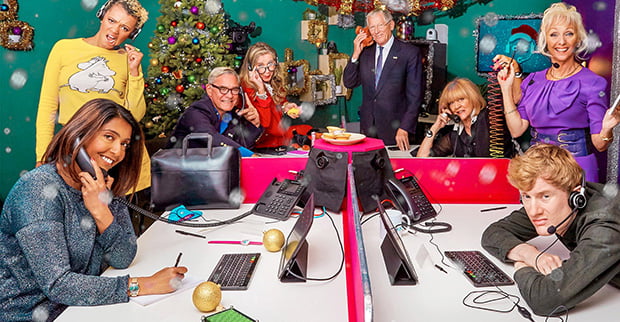 Channel 4's Celebrity Call Centre
US cable network E! Entertainment has greenlit three talent-driven shows, including one based on UK format Celebrity Call Centre, and taken two more into development.
The NBCUniversal-owned net's Celebrity Call Center gives ordinary people the opportunity to receive advice from their favourite celebs.
The show will be produced by Main Event Media, All3Media America and Ncredible Entertainment, with Nick Cannon, Michael Goldman, Jimmy Fox, Amanda McPhillips, Steven D Wright and Carolyn Gilbey exec producing.
The format was created by Kerfuffle TV for Channel 4 in the UK and is being distributed by
All3Media International.
E! has also ordered Celebrity Game Face, in which comedian Kevin Hart and his wife, Eniko, host a number of celebrity couples as they compete in challenges. The contestants are awarded money to donate to a charity of their choice.
The series, set to premiere on July 6, is produced by Critical Content and HartBeat Productions with Hart, Jenny Daly, Tom Forman, Jon Beyer, Bryan Smiley, Mike Stein and Michael Canter exec producing.
The cablenet has also lined up celebrity-focused 10 Things You Don't Know. Each episode highlights a celebrity and counts down the 10 most surprising facts about that person.
The series is produced by Jupiter Entertainment with Patrick Reardon, Harrison Land and PJ Morrison exec producing.
Additionally, E! has ordered two series into development: Glamsquad Showdown and The Seven Year Stitch, both working titles.
Glamsquad Showdown is a comedic beauty competition, while The Seven Year Stitch follows committed couples nearing their seventh anniversary who are given seven weeks to give their relationship a facelift.
The former is produced by Shed Media with Lisa Shannon and Dan Peirson serving as executive producers, while Seven Year Stitch is produced by Trooper Entertainment with Dave Caplan and Heather Dubrow and Terry Dubrow the exec producers.
Recent News
Amazon fast-tracks 'The Boys' spin-off after global success
A spin-off to Amazon's comic book series ...
UK factual indie Passion Planet hires wildlife producer Nick Stringer
UK prodco Passion Planet, a division of London-based factual ...
News round-up: ITV America's Sirens reveals 'Baddies'; Cineflix sells 'Ordinary ...
Sirens unveils 'Baddies' with 16-year-old Marsai Martin ...
Gaumont preps Mexican drama with 'This Is Not Berlin' duo
French studio Gaumont is developing a Mexican music drama ...
HBO Max orders 'dark, horror-tinged' Pretty Little Liars reboot
HBO Max is rebooting Pretty Little Liars with a ...