Cloudco's Boy Girl Dog gets second run
Broadcasters in France, the UK, Italy and Ireland have greenlit a second season of children's animated comedy Boy Girl Dog Cat Mouse Cheese.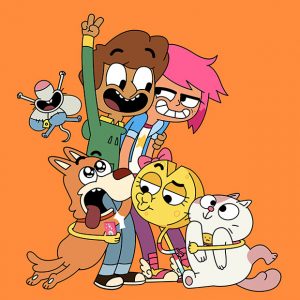 Boy Girl Dog Cat Mouse Cheese debuted last year
The 52×11' series is a copro from Cloudco Entertainment in the US, Watchnext Media in France and Ireland's Kavaleer Productions, and provides an animated comedic take on a blended family sitcom.
After S1 premiered last year, a second run has now been commissioned by BBC children's channel CBBC in the UK, RTÉ in Ireland, France's Gulli and De Agostini's DeAKids and KidsME in Italy.
Meanwhile, Super RTL in Germany has acquired the first season.
Boy Girl Dog Cat Mouse Cheese is supported in part by France's Centre National du Cinéma et de L'image Animée and Screen Ireland.
Its executive producers are Philippe Alessandri for Watchnext Media, Sean Gorman, Karen Vermeulen and Ryan Wiesbrock for Cloudco Entertainment, and Andrew Kavanagh and Gary Timpson for Kavaleer Productions.
S2's story editor is Tom Krajewski, while Mathieu Giner directs.
Recent News
TBI In Conversation: Endemol Shine North America's Sharon Levy on ...
TBI's Mark Layton speaks to Sharon Levy, ...
Apple TV+ orders half-hour comedy from Patricia Arquette & Ben Stiller
Apple TV+ has ordered a half-hour comedy ...
See-Saw launches Australian prodco with 'The End's Samantha Strauss
North Water and Slow Horses producer See-Saw Films ...
NBCU ups inclusivity exec Janine Jones-Clark to EVP, expands remit
NBCUniversal has promoted diversity exec Janine Jones-Clark to EVP ...
All3Media Int'l hires Endemol exec Mike Gould for digital ...
London-based indie distributor All3Media International has appointed ...