BET puts spotlight on racism in the US
[addthis tool="addthis_inline_share_toolbox_p9bf"]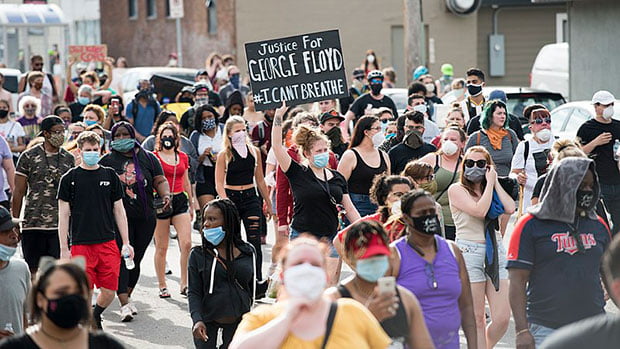 Protestors in Minneapolis following the death of George Floyd

(photo: Fibonacci Blue via CC)
ViacomCBS-owned cablenet BET has launched a month-long series of programmes addressing racism in the US, following the death of African American George Floyd at the hands of Minneapolis Police last week.
BET, which targets African American audiences, began the series last night with Justice Now: A BET News Special, featuring leading African American voices in activism, politics and entertainment.
The special included dialogue with Floyd's family, former NBA player Stephen Jackson, Senator Cory Booker, singer John Legend, rapper Tip 'TI' Harris, journalist Nikole Hannah-Jones, activist Tamika Mallory and NAACP president Derrick Johnson.
Later this week, BET News will air Justice Now: A BET Town Hall, a special virtual telecast featuring community leaders and activists sharing their views on the reform they want to see in the US's political and criminal justice systems.
Marking the anniversary of the emancipation of the slaves on June 19 will be BET News's Presidential Forum, for which President Donald Trump and presumptive Democratic presidential nominee Joe Biden have been invited to address the concerns of the country's black citizens.
In addition to last night's Justice Now: A BET News Special, the cablenet yesterday aired a day-long array of inspirational programming and curated films tackling racism, including Dwayne 'The Rock' Johnson's docuseries Finding Justice.
"We stand in steadfast solidarity with George Floyd's family, the many victims of racist brutality and those who are using their voices and platforms to challenge it," said BET president Scott Mills.
"There are no easy solutions for these systemic issues of racism, injustice and trauma. BET is leveraging every platform and resource at our disposal to support and inform our community and help identify strategies and viable solutions in this time of crisis.
"From in-depth news specials, subject matter expert conversations, interstitials and round-the-clock coverage on BET.com and social platforms, we are delivering impactful content and resources that speak directly to our viewers. Empowering Black Americans is core to our mission. We are committed to using our unique ability to mobilise our powerful, cross-sector coalition of partners to help drive critical outcomes and amplify leading voices in the black community."
Earlier this week ViacomCBS's US cablenets went dark for just under nine minutes as a mark of respect for Floyd, whose death in police custody has sparked major civil unrest across the country.