Bear Grylls to launch digital network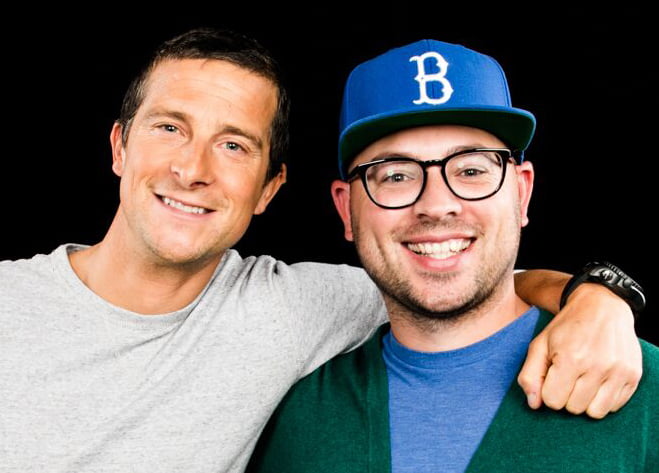 Bear Grylls and Delbert Shoopman (right)
The Natural Studios, a joint venture between production group Banijay and survivalist Bear Grylls, is launching a digital network dedicated to lifestyle and adventure programming.
The joint venture, launched last year, is teaming up with US digital specialist Team Whistle to launch the Bear Grylls Digital Network this autumn.
The partnership will produce digitally native shows for the new network, with content and series featuring Grylls and Team Whistle talent.
A slate of series in production aims to reach young audiences and introduce a new generation of adventurers to Grylls' shows.
The Bear Grylls Digital Network series will be distributed globally across Grylls' social channels, including YouTube, Snap, Instagram and Facebook, and integrated with talent from those platforms.
Grylls said: "This is about giving people access to the coolest tips and tricks of survival, as well as a look behind the scenes of my adventures, my life and my friends. Ultimately, we want to empower people to be able to survive and thrive in the wild and in life."
Delbert Shoopman, co-CEO at The Natural Studios, added: "Social provides that instant sense of intimacy and immediacy that fans and adventurers love. We can't wait to get started on introducing our followers to more of our friends and remarkable fellow adventurers."
The announcement was made at Team Whistle's NewFronts presentation yesterday.
Recent News
LatAm streamer Europa+ launches, with 'Doctor Who' & 'Vernon Subutex'
US-based media company Castalia Communications and Mexican investment fund ...
How Tuesday's Child kept the music playing through Covid
In the first of a two-part series, Karen Smith, ...
News round-up: MIA reveals line-up; Eccho strikes Ukraine deal; BBC Two ...
MIA reveals line-up Italian drama event Mercato Internazionale Audiovisivo (...
BBCS extends development and distribution partnership with 'First Team' prodco Fudge ...
BBC Studios (BBCS) has renewed its partnership with Fudge ...
BBC Studios, Lionsgate hire ABC's Rachel Bendavid for scripted partnership
BBC Studios (BBCS) and Lionsgate have appointed ABC Entertainment ...